Enoch Gandhi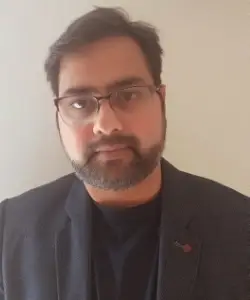 MYOB, Xero, Quickbooks, Word, Excel, P/Point
National Crime Check Cleared
If you would like a brief chat or to schedule an online meeting,
then call and ask to speak with me.
Get an instant Quote
To be able to provide you with a relatively accurate quote, we will need you to provide some core information that is used for this purpose only.
We suggest you have the bank statements or closely estimate the number of transactions on all business bank accounts and credit cards for the last three months.
Enoch Gandhi has the following skills, attends regular skills maintenance training, and the support of a diverse team of bookkeepers and accountants with a wide range of skills
Introducing Enoch Gandhi
An enthusiastic and skilled accounting professional, Enoch Gandhi has extensive experience with accounting principles and processes. Available to help you in your business, bringing his invaluable knowledge to streamline your processes and help improve your bottom line. Boasting a track record of success in providing financial results and advice that has helped many businesses improve performance and profitability, Enoch is looking forward to performing a similar role in yours.
Possessing excellent organisational and facilitation skills, Enoch Gandhi is known for his sound judgment, working consistently – even under pressure and to tight deadlines. Adept at applying critical thinking and paying attention to detail, demonstrating a commercial awareness with current business and economic trends and issues.
Very computer literate, Enoch has an extremely broad range of software skills including:
Microsoft Office: Word, Excel, Outlook
Accounting Systems: Business Central, Tencia, TechnologyOne, Great Plains, Nexus, MomentomPro, QuickBooks
CRM Systems: Support Ability, Good Human, TriMicro, Procura, ITM's
Reporting and analysing Systems: Domo, Adaptive insights, Decision Point, Hyperion, Crystal Reporting, Qlick View, SQL
Other: Proda (My Place), Medicare Online, Soft4leasing
Enoch Gandhi has the sort of background you are looking for, one that is equipped to take your business to success with experience in accounts payable and receivable as well as a broad scope of office administration including payroll. Enoch prides himself on strong business acumen and critical attention to detail. Knowledgeable with NDIS and the Aged Care Industry, Enoch is versatile and flexible, and eager to assist a broad range of business
Skilled at regulatory and statutory compliance; financial reporting; analysis of strengths and weaknesses; assessment of risk; all facets of accounts and general ledger input and maintenance; as well as reconciliations and leases. With outstanding communication and interpersonal skills, Enoch Gandhi quickly builds rapport with clients, developing strong working relationships with people at all levels and from different backgrounds, including Hindi and Gujarati as well as English.
Making Enoch Gandhi a valuable team member of your team is a wise move. With the support of the ABBS group of experts, you know you will have all the assistance you need to run a smooth business operation, geared towards profitability and growth.
Remember, it cost nothing to chat, so pick up the phone and call me now on 1300 0 ABBS 0 (1300 022 270)
for affordable bookkeeping services that support your business
Popular Points of interest
Our Most Popular Services