Harpreet Batth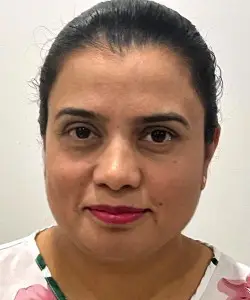 MYOB, Xero, Quickbooks, Microsoft Office
National Crime Check Cleared
If you would like a brief chat or to schedule an online meeting,
then call and ask to speak with me.
Get an instant Quote
To be able to provide you with a relatively accurate quote, we will need you to provide some core information that is used for this purpose only.
We suggest you have the bank statements or closely estimate the number of transactions on all business bank accounts and credit cards for the last three months.
Harpreet Batth has the following skills, attends regular skills maintenance training, and the support of a diverse team of bookkeepers and accountants with a wide range of skills
Introducing Harpreet Batth
From a strong background in accounting, Harpreet Batth is here to assist you in your business and ensure that your day-to-day finances are in great shape and running smoothly. Having gained her Master of Professional Accounting in Central Queensland University in 2010, Harpreet comes to us with experience gained both in India, Perth and Brisbane.
Her work with BFL Tax Professionals saw Harpreet Batth helping many small businesses and individuals with their taxation needs, and it is this level of caring and customer service that Harpreet brings to the table. Eager to help small businesses with accounts receivable and payable, as well as bank reconciliations, Harpreet is here to assist you in the running of the day-to-day financial operations of your business overall.
Harpreet Batth is very comfortable with cultural diversity and fluent in English, Hindi and Punjabi. With excellent computer skills in Microsoft Office Word, Excel, PowerPoint and Outlook; she is also skilled with Xero, MYOB, QuickBooks and Reckon.
Most importantly, Harpreet Batth enjoys building relationships with people and looking after their needs. It is a great comfort to her clients, knowing they are in the hands of a dedicated and trusted bookkeeper who is also supported by the experts at ABBS. "It's the main reason I joined the ABBS team," Harpreet explained. "I was determined to start my own business, but I wanted to be assured that all of my clients' needs would be cared for under the one banner. Being part of ABBS means I get the best of both worlds – experts in all fields of accounting at my fingertips, and a business I can call my own."
No matter what type of business you are running, from retail to services to trades – Harpreet Batth has the knowledge, tools and professionalism to help you. Having graduated in professional accounting from Central Queensland University and Information Technology in Punjab, India – Harpreet is well equipped and enthusiastic about working with you.
Why wait? Call her now and start on your path to smoother operations and more freedom to work on the things you love to do in your business
Remember, it cost nothing to chat, so pick up the phone and call me now on 1300 0 ABBS 0 (1300 022 270)
for affordable bookkeeping services that support your business
Popular Points of interest
Our Most Popular Services